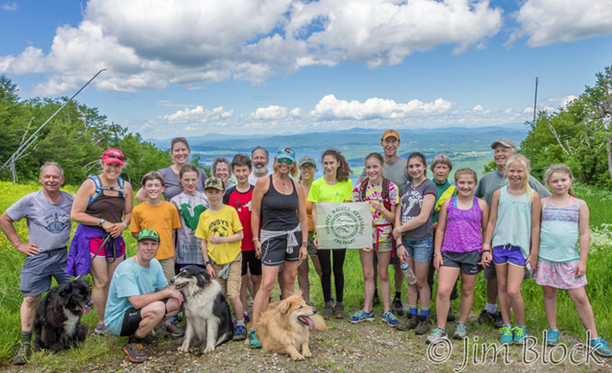 Celebrate the SRK Greenway's 30th Anniversary with us!
Sunday, Sept. 24th at Winslow State Park
— rain or shine —
Start your celebration with a hike up to the summit of Mount Kearsarge (2,937 ft), the highest peak on the SRK Greenway. Or take a hike to the remote Morey Pond in the Kearsarge Wildlife Management Area. Both group hikes start from the Winslow State Park picnic area at noon.
If you can't make the group hikes — at least join us for the party at 2pm! All hikers are meant to meet back at the Winslow State Park Pavillion for a picnic/tailgate celebration. This will be a casual, pot-luck affair in the middle of the afternoon. Please bring something to share. All are welcome.
SRK Greenway's 30th Anniversary
The Sunapee-Ragged-Kearsarge Greenway Coalition was incorporated in 1993. For the past 30 years, this all-volunteer, non-profit organization has maintained a 75-mile trail network offering public access to the mountains, lakes, forests and historical sites of the region. Come celebrate the success of this wonderful local resource!
In the mid 1980's a small group of creative individuals came together to formulate a plan. This early group included individuals from the Society for the Protection of NH Forests (SPNHF), Lake Sunapee Protective Association (LSPA), Ausbon Sargent Land Preservation Trust (ASLPT) and several other local conservationists. This early group laid the groundwork to create a Hiking Trail network – the Greenway – through ten towns: Andover, Danbury, Goshen, Newbury, New London, Springfield, Sunapee, Sutton, Warner and Wilmot.
Please join us on Sunday, September 24th to honor those early SRK Pioneers who were instrumental in the development of the Greenway. All SRK memorabilia and trail stories are encouraged.
For more details on the exciting SRK Greenway celebration you can email us at srkgc@srkg.com