Summer Hikes on the SRK Greenway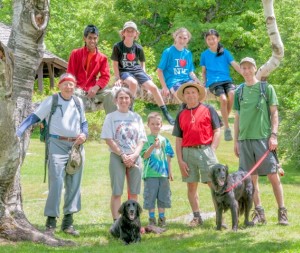 The SRK Greenway is pleased to offer hikes this Summer on a variety of trails designed to appeal to a wide range of hikers. Be sure to contact the trip leader at least a day in advance to get the details concerning time and place to meet, possible car drops, and weather considerations. Always dress in layers, bring a snack and plenty of water.
June 29 (Sat) Join the SRK Greenway Trail Crew for a fun day in the woods of Springfield. Hoping to tackle the Webster Pass Trail between Route 114 in Springfield and Pleasant Lake in New London. There was significant logging in this area earlier this year and the trail needs to be re-established.  For more information contact Andy Hager at 526-2846.
July 6 (Sat) The plan is for this to be a Night Hike for the entire family with the objective of getting a long distance view of the fireworks over Lake Sunapee and Pleasant Lake. Expect hiking in the dark with a headlamp on the way home. Family event. For more information contact Dave Gardner 927-4033
July 13 (Sat)  Take a short hike up to the Eagles Nest in Newbury for a nice view of Newbury Harbor and Lake Sunapee. Part of Old Home Days celebration for Newbury, NH. Meet at the Caboose 9am in Newbury Harbor.
July 27 (Sat) Kids Trail FUN Run in Webb's Woods in Sunapee. Join Nathan Richer on a moderate 2-mile trail run designed for all ages. For more information contact Nathan 344-0287
August 17 (Sat)  Hike from the Goshen Lead Mine to Lucia's Lookout. This is a great hike on Mount Sunapee on trails less traveled. Considered Difficult hiking and more than 5-miles. For more information contact Tom Lawton 477-1995
August 25 (Sun)  Join Anne Hewitt and friends on the SRK Greenway Trail #10 as she hikes from Proctor Academy in Andover up to Winslow State Park on Mt Kearsarge. This is a Moderate hike of about 5 miles through some beautiful woods and old NH roads. For more information contact Anne at 848-5762.