The SRK Greenway is excited to host a SOLO Wilderness First Aid course on Saturday-Sunday January 22-23, 2022. The Wilderness First Aid Course will be taught in the Curtis Ivey Science Center at the Colby Sawyer College in New London, NH.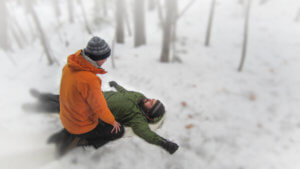 The Wilderness First Aid (WFA) is the perfect course for the outdoor enthusiast, or trip leader, who wants a basic level of first aid training for short trips with family, friends, and outdoor groups. The WFA is 16 hours long (two full days). This course is open to anyone over 16 years old. The total course cost is $200 and includes a box lunch both days.
This 16-hour Wilderness First Aid course provides students with an introductory understanding to wilderness first aid. Hands-on course labs, scenarios, practicals and repetition ensure students are engaged and learning for the duration of the course. SOLO courses combine multiple styles of learning to help you learn and remember course information after the course is complete.
There will be extra precautions taken due to COVID. Students are expected to wear masks at all times and must provide proof of vaccination prior to registration. Furthermore, all hands-on activities will require rubber gloves and class size will be limited to ensure adequate spacing.
The SRK Greenway is excited to bring this class to the community. This is a great program for anyone who regularly enjoys the outdoors and would like a strong foundation in basic first aid.
This course is currently full. SOLO is trying to find a second instructor to allow us to have a second classroom (if there is appropriate interest). Send us an email at srkgc@srkg.com to get your name on the waiting list.