Winter Peak Bagger's Special
Going up and over Mount Kearsarge is a great day hike in the Summer. But, making that same hike in the winter requires more time, the proper equipment and of course favorable weather. Luckily, we had all these things going for us on Sunday Jan 29th.
Nick Baer and Dave Gardner led a group of eleven SRK hikers starting at the gate to the Winslow State Park at 9am. Hiking up the Barlow Trail with microspikes and chocolate we all made it to the summit with smiles on our faces. A very quick lunch at the top was all that the cold wind would allow us as we continued down the Lincoln Trail to lower elevations.
The Lincoln Trail has some very steep sections that were covered in ice which required us to go slowly and carefully. But we eventually made it down the 6 miles to Kearsarge Valley Road in Sutton – where we had left cars to shuttle us back to Winslow. The Lincoln Trail goes through some beautiful woods that start out predominantly as spruce and hemlock in the State Park and then transition into Beech and Birch as you get into the Society for Protection of NH Forests' Black Mountain Reservation. We discovered a hollow full of moose tracks and bushwhacked around a bit hoping to find antlers in the snow but to no avail.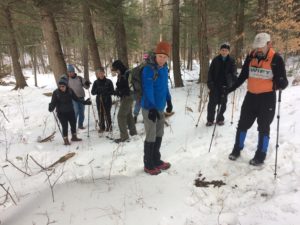 It was a great winter hike and a very easy-going group of people.  The hikers included Jeff Yegian, Sue and Don Elliott, Rick and Harriett Fingeroth, Brad and Jackie Esthus, Nick and Lili Baer, and Dave and Ada Gardner.