New SRK Greenway members, old friends, board members, visitors, new friends, trail maintainers — it was a diverse and delightful group that gathered on a crisp Fall Saturday morning to enjoy a hike up Bog Mountain. 
Sixteen smilling SRK hikers headed out on Trail #7 from Route 4A in Wilmot,
past Dud's Dell, across Stearns Road, and up the ridge to the summit of Bog Mountain from where we enjoyed the views and settled the question of which distant peak was which: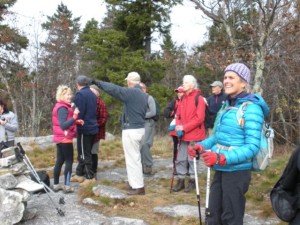 Fortified and exhilarated we descended on the trail lined with slippery leaves….carefully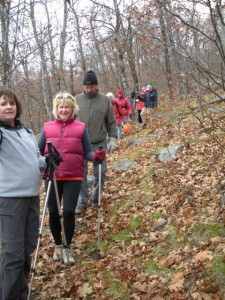 …and the good news is that we all made it, dignity intact.  We were back at the Wilmot Library parking lot before 1'00.   This was a fine day to be out and meet new people while enjoying our local trails and woods.