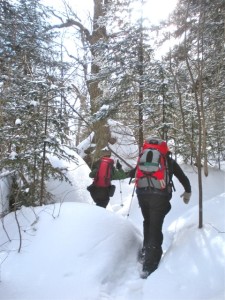 Winter Hiking
The arrival of winter does not signal the end of SRKG's hiking season –far from it!
We are offering a series of hikes in which the goal is to get outdoors, have fun, meet new people, explore beautiful places, and get some exercise. These outings, subject to weather, trail conditions, and the leader's choice may involve snowshoes, regular hiking boots or sometimes cross country skis. Please contact the leader in advance for details.
Join us on these great hikes!
Jan 18 (Sat) Andy Hager (526-2846) This trip will be a XC ski from Twin Lake Villa to Morgan Pond. Approximately 5 miles round trip. (M)
Jan 25 (Sat) Lee Carvalho (735-5719) Frank Baker, outdoorsman from East Andover, will lead us on a snow shoe exploration of the Tucker Mountain area. The goal is to reach secluded Weeks Pond. Approximately 5 miles round trip. (M)
Feb 1 (Sat) Nick Baer (526-8233) A family snowshoe hike up and over Bog Mountain on SRKG Trail #7. Children with an adventurous spirit welcome. Approximately 4.6 miles. (M)
Feb 8 (Sat) Brooks McCandlish (938-5354) Snowshoe hike to Ayers Pond from the old Washington (Mountain) Rd in Bradford. Round trip approximately 4 miles. About 900 ft elevation gain, mostly on old trails with some open bushwacking. Moon Mountain summit may be included. (M-D)
Feb 15 (Sat) Dave Cook (526-6404) Again, the famous "Moonlight Madness" snowshoe hike on the Cook easement trails in New London. Generally starts at 9:00 PM. Check with Dave a few days ahead. (M)
Feb 22 (Sat) Nathan Richer (344-0287) If Mother Nature cooperates this will be a ski tour of the old King Ridge ski area in Sutton, off SRKG trail #13 (M)
Mar 1 (Sat) Gerry Gold (526-2857) Snowshoe to Lucia's Lookout on Sunapee-Pillsbury Ridge from Andrew Brook Trail and Lake Solitude. (D)
Mar 9 (Sun) Lisa Correa (518-281-1494) Snowshoe hike in Newbury. Fisherfield Park Perimeter Trail. Approximately 2 miles. (M)
Interested in a Winter Walkabout?
Complete all 14 sections of the SRK Greenway between December 21 and March 21 to join the sort-of-exclusive group of Winter Walkabout certificate holders. Not sure you want to do this on your own? Join Lee Carvalho and Gerry Gold on some Sunday or mid-week walks This will be an ad hoc, week-to-week venture depending on interest. Email Lee (leecarvalhoh6@gmail.com) or Gerry (geecubed@yahoo.com) to get on the contact list.