2014 Fall Walkabout Series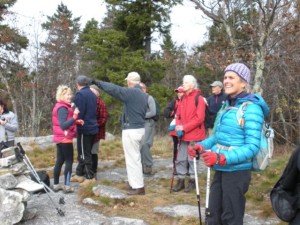 This Fall marks the 21st Annual SRK Greenway Walkabout, beginning September 7th with a challenging hike over Ragged Mountain. In early October hikers will summit Mt Kearsarge and by the end of October make their way to Newbury Harbor on Lake Sunapee.
Please join us!
To join the hikes it is essential that you contact the leader at least a day in advance to get details concerning where and when to meet. As always bring a snack and plenty of water, dress in layers for varying weather conditions, and consider using poles to add stability and help your knees with the downhills. Perhaps now is the time to challenge yourself to complete the entire 75 mile circuit of 14 trails; you can complete some of them this fall.
Fall Walkabout Schedule
Sun 9/7 Ragged Mt Trail #9 New Canada Rd to Proctor Academy
This is a strenuous full-day hike covering almost 6.5 miles.  Ascending about 1,500 feet up and over Ragged Mt. using the Ridge Trail.  Andy Hager andrew@hagerinvestments.com 526-2846
Sat 9/13 Wilmot Center Trail #8 Wilmot Center to New Canada Road
This moderate hike starts on Beaver Pond Trail and continues on the Patterson Farm Trail. It is about 4 miles. Brian Faughnan bwfaughnan@comcast.net 526-7838
Sat 9/20 AMC led Trailwork
Join an Appalachian Mountain Club instructor to learn how to move large rocks safely. Working on Trail #14 in Newbury for this hands-on session. Gerry Gold geecubed@yahoo.com 526-2857
Sun 9/28 Quabbin to Cardigan Trail Day
Join the Q2C Trail crew as they continue their goal of building a trail from the Quabbin Reservoir to Cardigan Mt. Gerry Gold geecubed@yahoo.com 526-2857
Sat 10/4 Mt. Kearsarge
Hike over Mt Kearsarge (the highest elevation on the Greenway) on this 6 mile strenuous hike. Be rewarded for your hard work with great views. Be prepared for more than 2,000 feet of descent. Tom Lawton telawton@yahoo.com 477-1995
Sat 10/18 Proctor to Winslow
This will be a 6-mile hike from Proctor Academy in Andover up to the Winslow State park on Mt. Kearsarge. Great climb for a Fall foliage weekend.  Lee Carvalho leecarvalho6@gmail.com 735-5719
Sat 10/25 Quabbin to Cardigan Trail Day
Join the Q2C trail crew on a fun-filled work day with NH Audubon.  Gerry Gold geecubed@yahoo.com 526-2857
Sat 10/25 Newbury Harbor Hike
Hike from Chalk Pond down to Newbury Harbor. This is a 4.4 mile walkabout starts on the Audubon's Stoney Brook Wildlife Sanctuary and climbs the Eastern flank of Sunset Hill and eventually winds it's way down to Newbury Harbor on Lake Sunapee.  Nathan Richer nricher@ruger.com 763-2127