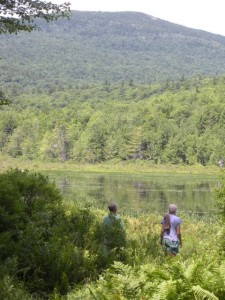 There were 18 of us on the hike Saturday (including board members Gerry & Lee) from Bradley Lake in Andover to Wilder Pond in Salisbury.    Mostly we walked on old logging roads, which meant it was easy to be pairs or small groups for conversation along the way. We stopped to admire a nice little beaver-created wetland along the way.
Eventually we arrived at Wilder Pond, which you can see from Kearsarge on the way down the Barlow trail.  There is a little cabin along the shore with a welcoming sign – some of us relaxed on its screen porch while others explored the edge of the pond. 
​ After time for resting and snacks we headed back, some of us on the same route and others following a different route (a bushwack).  The whole thing lasted about 4 1/2 hours.  Jim Block was with us and posted some photos on his website.