If you are looking for an uplifting experience — Try trailwork on the Greenway.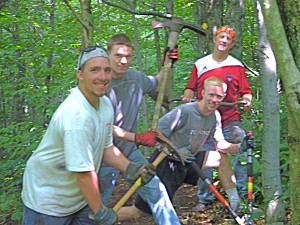 This Summer we've benefited from two small grants from The Quabbin-to-Cardigan Partnership (http://www.q2cpartnership.org). More trailwork events are scheduled for August through October, some in cooperation with area Town Conservation Commissions and Recreation Departments.
This July a crew from the Student Conservation Association (www.thesca.org) worked on the Barlow Trail on the Wilmot side of Mount Kearsarge.  Working six days each week, from 8AM to 4PM, the crew of 6 high school students from Manchester and Keene, and their two young adult supervisors, built and repaired waterbars, rock steps, and re-graded sections of the 16-year-old and much used trail in Winslow State Park.
Our "Trailwork Community" project with Q2C accomplished two major tasks on July 24th. In Andover, the reroute off a steep gravelly piece of the Greenway on the Proctor academy side of Ragged Mountain was accomplished by a crew of four.  Clearing and blazing revealed a beautiful cove of hazel bush, partridge berry, red pine, and a handsome ledge outcrop.
And a enthusiastic crew of 8 repaired and cleaned waterbars and gutters on the lower half of the Summit Trail on Mount Sunapee SP.  Dave Coulter's group included the amazing delegation from the JimTrail family. The family, taking a day from their week vacation at TwinLakeVillage in Springfield, donated a day to the SRK Greenway last year and came back for another day this year.
Trailwork Coming up in August:
   Aug 14th (Wed):     Springfield, Wilmot, New London: Morgan Pond Rd to Great Brook .
        A loop hike-&-clean-up from Morgan Hill in New London. 3 miles. Moderate
        Help and learn: Clear trail and fix blazes: Great Brook to Morgan Pond Rd.
        Contact:  Gerry Gold (526-2857 or geecubed@yahoo.com.
  Aug 17th (Sat):    Goshen: Pierce Lead Mine Trail to Lucia's Lookout, Pillsbury SP.
        While hiking, we will "read" the trail for better maintenance.  6 mi. Moderate but long.
        Contact: Tom Lawton (ph: 863-6918).
        Goshen Conservation Commission & SRK Greenway Coalition.