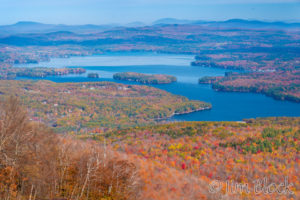 On a beautiful Sunday morning in October Tim Eliassen and Dave Gardner led a group of hikers up and over Mount Sunapee. The weather and the fall foliage was perfect. A truly beautiful hike starting at Bubba's restaurant in Newbury harbor. We took the Newbury Trail up to Jack and June Junction and stopped at the White Ledges to overlook Lake Solitude. This has to be one of the best snack stops in New England.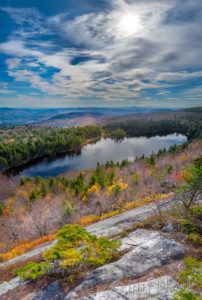 After we ate all of our chocolate we continued towards the summit of Mount Sunapee.  Trail #1 of the SRK Greenway is a really great trail and is a beautiful hike in all seasons of the year. But, it was particularly beautiful on this hike with the New Hampshire fall foliage at its peak.
This section between Lake Solitude and the summit is shared with the Monadnock-Sunapee Greenway. the Monadnock-Sunapee Greenway is a hiking trail club very similar to ours that maintains a protected Greenway from Mount Monadnock to Sunapee.  From the White Ledges it is less than a mile to the summit.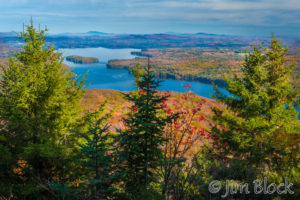 After enjoying the view from the back porch of the Summit Lodge we hiked down the Summit trail which eventually connects to the short Province trail. We had left a couple of cars at the parking lot on Old Province Road so that we could get back to Newbury Harbor. The hike took about 5-hours in total after all of the leaf peeping and chocolate eating. The Guidebook says that it was 5.4 miles and a gain of 1,750 feet in elevation and 1,200 feet of descent.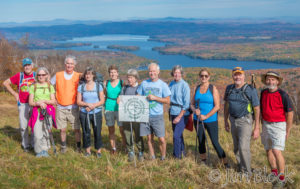 A special thank you to Jim Block for the photos. To see more of his hiking and nature photos visit his website here.