SRK Greenway Annual Meeting

The 2019 SRK Greenway Annual Meeting will be held at the Sutton First Free Will Baptist Church beside Kezar Lake in North Sutton, NH on Sunday March 31st.
The evening begins with a Potluck Supper starting at 5pm. All are welcome to join but please bring a dish to share. The Sunapee Ragged Kearsarge Greenway Board will hold their Annual Meeting following the potluck. This quick business meeting led by Greenway Chairman Nick Baer is designed to share with the community the current status, important issues and latest news of the SRK Greenway.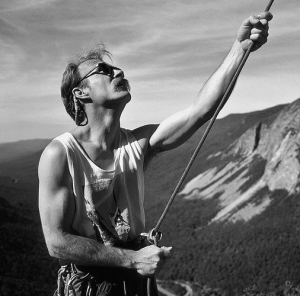 Please join us after the Potluck Supper and Meeting for a Slideshow Lecture from local alpinist, rock climber and author, Jon Sykes.
Jon Sykes has been on thousands of hiking and climbing trips in the NH White Mountains. His adventures have run the gamut from rock and ice climbing to alpine mountaineering and backcountry skiing. He has been credited with numerous first ascents of both rock and ice climbing routes in New England. And he has published two popular climbing guidebooks focused on the White Mountains.
Live Free and Climb
Jon will share slides and stories from his extensive rock climbing and hiking in the White Mountains over the past 40 years. The title of his lecture is Live Free and Climb. You will not want to miss it.