Join us for the Annual SRKG Meeting on Sunday March 17th.
And Don't Miss the Mt Everest slideshow!!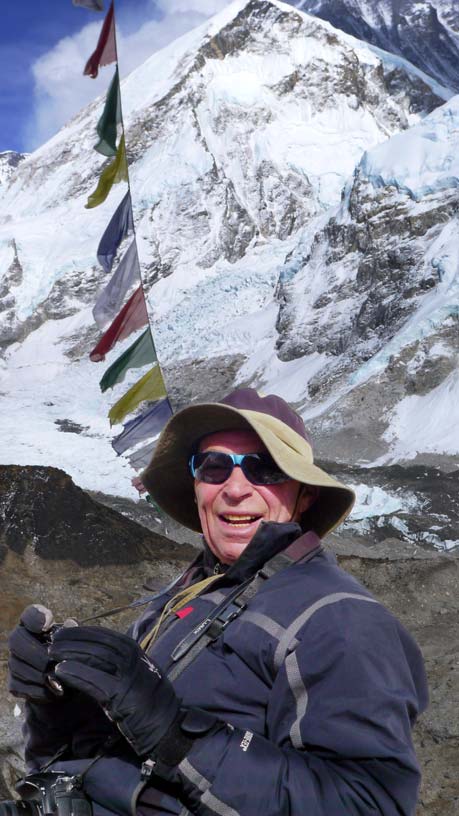 Local photographer Jim Block will present his slideshow "Jiri to Everest Base Camp". The slideshow will take us on his 4-week adventure through Nepal.
The SRKG Annual meeting will begin in the activity room of Our Lady of Fatima Church in New London at 5:00pm with a scrumptious pot luck supper. (Entrees are always welcome). After a short business meeting, Jim Block will present his slide show of his trek with friends in Nepal.
Jim Block photographs the natural world, people, and almost anything he sees.  Well over a thousand of his photos have been published and many have appeared on the cover of books, magazines, calendars, and maps.  Jim has also enjoyed teaching digital photography for over a dozen years.  His popular Blog can be found at www.jimblockphoto.com
If you are joining us for the potluck at 5pm – please contact Jean LaChance (927-4345) to tell her that you will be coming and what you will be bringing. Jim Block's slideshow presentation will begin by 6:30 pm.
The Sunapee Ragged Kearsarge Greenway (SRKG) is a non-profit organization that promotes hiking and protects a 75-mile network of trails. With 200 members, the SRKG is a thoroughly community-based, all volunteer organization governed by an active Board of Directors which oversees trail maintenance work, a newsletter, a website (www.srkg.org), a trail guide book (sold at local book stores) and a 3-season hiking schedule.
Support your local Greenway!
Free and open to all ages