75-miles in a weekend!!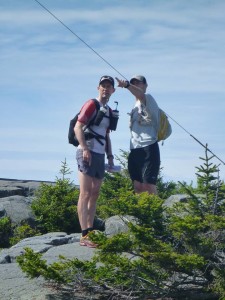 The entire 75-mile loop of the Sunapee Ragged Kearsarge Greenway  will serve as the venue for the MadAthlete Emerald Necklace 3-Day Stage Race from August 22-24th.
This event will be the first of its kind in the East and a great showcase for the Greenway. It will directly raise funds for the stewardship of the SRKG, and with the help of race staff, there will be improvements to signage and portions of the trail. The influx of competitors and families will also provide an economic benefit to the region.
Competitors will race solo or in teams of two and will complete approximately 25 miles a day of point-to-point trail. Top competitors will run most of each stage while others will hike the majority of it. There will be a 12-hour time limit for each stage. At the end of the first two stages, competitors will spend their free time recovering for the challenging day ahead and enjoying the camaraderie of fellow competitors, family, and friends at the designated camp sites…which is one of the most special facets of a stage race like this.
The race starts in Andover at Potter Place at 7:00 am on Friday, August 22. On Day 1, competitors will travel approx. 23.5 miles and ascend both Ragged and Kearsarge Mountains before finishing and camping at Kearsarge Middle School. On Day 2, competitors will trek approx. 24.5 miles up and over Mt. Sunapee before finishing the stage and camping at Sunapee Middle/High School.
On Day 3, competitors will race approx. 32.5 miles before finishing at Potter Place. Chad Denning, a local and former Recreation Dept. Director of New London, is the Race Director and has been working closely with the SRKG Board to secure the necessary permits for the event.
Come cheer on and encourage and take part in this fun event.
Want to Help?
We would love to have volunteers from the SRKG community. If you are interested in helping out , please contact Chad Denning at cdenning@teamamp.org. Additional information, including Registration Details, for the event can be found here.