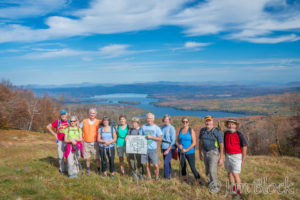 Take a Hike this Summer!
We are offering some very fun hikes on the SRK Greenway this Summer.  All hikes are free and open to the public.  Whether you are interested in exploring the greater Lake Sunapee Region, or you just want to get out on a trail with others – there is something for everyone!
Be sure to contact the trip leader at least one day in advance to register your interest and get the details on meeting place and time. Always carry a substantial supply of water, a snack, and layers of clothing to prepare for possible weather conditions.
Summer Hikes on the SRK Greenway! 
Saturday, June 16th
Join this fun, Summer Hike from Baker Hill in Newbury to King Hill in Sutton and down to Wadleigh State Park on Kezar Lake. This will be a fun family hike that will be a moderate 4+ miles. Possible swim and picnic at Wadleigh Park depending upon weather.  For more information contact Dave Gardner 927-4033.
Saturday, June 30th  
Trail work Day – Join the SRK Greenway Trail Crew! Exact location and details to be announced. But you can expect a few hours in the woods having fun taking care of a section of the SRK Greenway. Please contact Andy Hager for more information (603) 470-6009.
Saturday, July 7th
Andover Hike up to Winslow State Park — This is a beautiful hike up from Proctor Academy following some great old roads that lead up to the Winslow State Park. Expect about 6 miles of moderate uphill hiking on trail #10 of SRK Greenway. For more information please contact Anne Hewitt 603-848-5762.
Saturday, July 14th 
Eagles Nest Hike — Hike up to the Eagles Nest in Newbury Harbor on SRKG Trail #1. Join Nathan Richer on this Moderate 1-mile hike as part of the Newbury Old Home Day Celebrations. For more info contact Nathan at 603-344-0287.
Sunday, July 22nd 
Bog Mountain Hike — Join Anne Hewitt on a great 5-mile hike with nice views up on Bog Mountain in Wilmot, NH. This is a fun, summer hike with moderate elevation. For more information contact Anne at (603) 848-5762.
Saturday, August 4th 
Explore the Ponds of East Andover — Join Sooze Hodgson on a great hike to explore Hopkins and Cole Ponds in East Andover, eventually ending up at the Ragged Mt. Fish & Game Club. Expect 5-6 miles of Moderate hiking. For more information contact Sooze at (609) 216-3033
Sunday, August 12th 
Town of Sunapee Sestercentenial Hike — Join Tim Eliassen on SRK Greenway Trail #1 from Newbury Harbor up to the summit of Mount Sunapee.  This is an official event to celebrate the Sunapee Sestercentenial 250th Town Anniversary. There is not a better view of the lake and the town of Sunapee than this hike. Come see it all. Difficult 6-miles. For more info contact Tim 603-763-2502
Sunday, August 19th 
Lincoln Trail Hike — Hike up the Lincoln Trail from the Kearsarge High School in Sutton up to the summit of Kearsarge Mountain and down to the Winslow State Park in Wilmot. Approximately 6 miles of Moderate/Difficult hiking with significant elevation gain. For more information contact Anne Hewitt (603) 848-5762