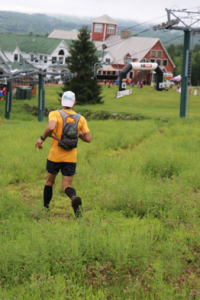 The 75-mile race began on a quintessential, bluebird summer day and ended 3 days later in a rain-soaked gusher.
I wouldn't blame you if you stopped reading after that disheartening subhead, but it gives you an idea of what an ultra-runner goes through during the course of a very long and wet run, but if you look beyond the headlines you will see that there is more to this year's ultra-run on the SRKG trails than meets the eye.
This year's 3-day event, which breaks the 75-mile SRKG trail system into three consecutive marathon distance events, kept roughly the same number of participant as years past, hovering around 45 competitors.  While the race has not grown in the past few years, it is the ideal size for race coordinator Tom Hooper of Six03endurance.com who has a cap of 50 total participants to keep the race manageable. 
This year's top male was Brian Rusiecki from South Deerfield, Mass.  Brian controlled the 3 days with times of 4:1109, 4:14:59 and 5:24:30.  Matthew Warta of Lancaster, NY and Sean Berry of Portsmouth, NH battled for second and third consecutively.
Stacia Broderick of Plymouth, Mass and Amy Rusieki of South Deerfield, Mass battled it out for the Womens Division, finishing all 3 days with seconds of each other. Stacia claimed the first 2 days with time of 5:01:17 over Amy's 5:03:25 and she took first again on day 2 with a time of 5:19:20 to Amy's 5:19:23. On day three Amy was finally able to nudge past Stacia with a time of 6:59:27 to Stacia's 7:00:09.  The battle for bronze was just as tight with running buddies Renee Hislop, Liz Fones and Wanda Vajda from Southeastern Pennsylvania trading places for third, fourth and fifth.
The big story this year was that the 50k race held on the last, very soggy day of the Ragged 75 was chosen as the 2018 USATF Trail National Championship, with purse prizes of $4,000 for the National Championship and $1,500 for the New England Championship. More importantly, the top male and female earn a spot on the U.S. team that will compete at the 2019 IAU Trail World Championships in Portugal. 

The money may have been a draw for the elite runners, but most were looking for the challenge and boy was this year challenging.  With precipitation forecasted all day, sometimes torrential, roots and rocks were tricky to navigate and mud was in abundant supply.  Combine the weather with a 34-mile course that climbs over 6,300 vertical feet and you have a race ready to abuse its runners.  The 50k runs the same course on the SRKG as the last day of the Ragged 75 Stage Race, running from Sunapee High School to Ragged Mountain Resort.  The first 11.5 miles is mostly a mix of tar, dirt and well-maintained Class VI road, so the cool damp weather set up a super-fast pace from the start.  Once racers entered Gile State Forest the tough trail running began.  Kasie Enman of Huntington, VT and David Sinclair of Peru, VT took the top podium as the more road orientated runner began to fall away, navigating the rugged SRKG trails with a mix of finesse and stamina.  Enman finished with a time of 5:11:23, followed by Leah Frost of Portland, Maine at 5:20:12 and Elizabeth Ryan of La Jolla, California at 5:27:59.  Sinclair beat out the top men finishing at a blazing 4:17:36 on the slick course.  Pulling up in second was USST Nordic skier Simi Hamilton of Aspen, CO at 4:38:52 and David Kilgore of New York, NY at 4:41:38.
Nordic ski royalty joined the many spectators at the event with encouragement and praise. John Caldwell, who represented the U.S. at the 1952 Winter Olympics, founded the New England Nordic Ski Association (NENSA), was a U.S. Ski Team coach, authored several cross-country books and has the fasted known time running Vermont's Long Trail in 9 days back in 1968 was in attendance with other U.S. Ski Team members, including his granddaughter Sophie Caldwell and coach Matt Whitcomb.
603 Endurance did a fantastic job organizing this event and the SRK Greenway was proud to have the trail system used by these elite athletes. It was great fun for many of us to watch these incredible ultra-distance runners fly over the SRK Greenway trails. Stay tuned for news about the 2019 running of the Ragged 75 on the SRK website.