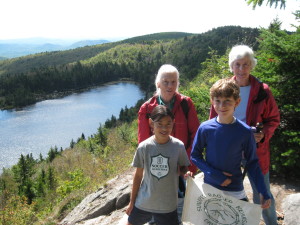 Join us on the Greenway this Summer!
The Greenway is offering a series of exciting Summer hikes in the Lake Sunapee region. The hikes, as always, offer a variety of terrain and conditions.
Please contact the hike leader in advance to get the details. All hikes are free and led by volunteers. Please be aware that some of the hikes are much more difficult than others and participants are encouraged to evaluate their capabilities carefully before joining any group.  Bring water and a snack but please leave dogs at home.
June 22 (Sun) Summit Mt. Kearsarge
Summit Mt Kearsarge – the highest point on the Greenway. Starting at Kearsarge Valley Road in Sutton hike up onto Bear mountain using the Lincoln Trail and on to summit of Mt Kearsarge. Finish at the Winslow State park. Distance is about 11 miles round trip. This is a Difficult hike with significant elevation but there are excellent views. Nick Baer, 526-8233,  smithbaer@tds.net
June 28 (Sat)  King Hill Reservation Trail Run
Start and finish at the base of King Hill Road in Sutton. Explore the old King Hill ski area. Expect Difficult terrain with significant climbs and great views.  Approximately 4 hours.  Nathan Richer  763-2127, nricher@ruger.com
July 6 & 8 (Sun &Tue)  SCA Trailcrew on Mt Kearsarge
Join Gerry Gold and others to assist the Student Conservation Association (SCA) crew repair the Lincoln Trail on Mt. Kearsarge. Moderate difficulty with no experience needed. Gerry Gold 526-2857 geecubed@yahoo.com
July 12 (Sat)  Explore Wilder Pond
Walk on a mix of old woods roads and trails from Bradley Lake in Andover to remote Wilder Pond in Salisbury.  Approximately  4 miles round trip. Lee Carvalho, 735-5719, leecarvalho6@gmail.com
July 19 (Sat)  Bog Mountain Trail Run
Trail run on SRKG Trails #6 & #7 from Pleasant Lake in New London to the summit of Bog Mountain in Wilmot.  11.5  miles roundtrip.  Andy Hager, 526-2846, andrew@hagerinvestments.com
August 2 (Sat)   Lowe State Forest
Knight's Hill, Lowe State Forest.  George Beaton, 938-2637
August 10 (Sun)   Hike down to Newbury Harbor
Hike on SRKG Trail #14 from Chalk Pond to Newbury Harbor.  Bring a towel!  Nathan Richer, 763-2127, nricher@ruger.com
August 17 (Sun)    Celebrate Sutton Hike
This will be an easy walk from Ring Brook in Newbury to Sutton where we celebrate Sutton's Old Home Day.  3.5 miles.  Sue Reel 927-4920 sreel@tds.net
August 30 (Sat)    Hike Aaron's Ledge
Hike up to Aaron's Ledge in Springfield.  Moderate hike with some steep sections about 5 miles roundtrip.  Susan Chiarella, 763-4661, schiarella@myfairpoint.net