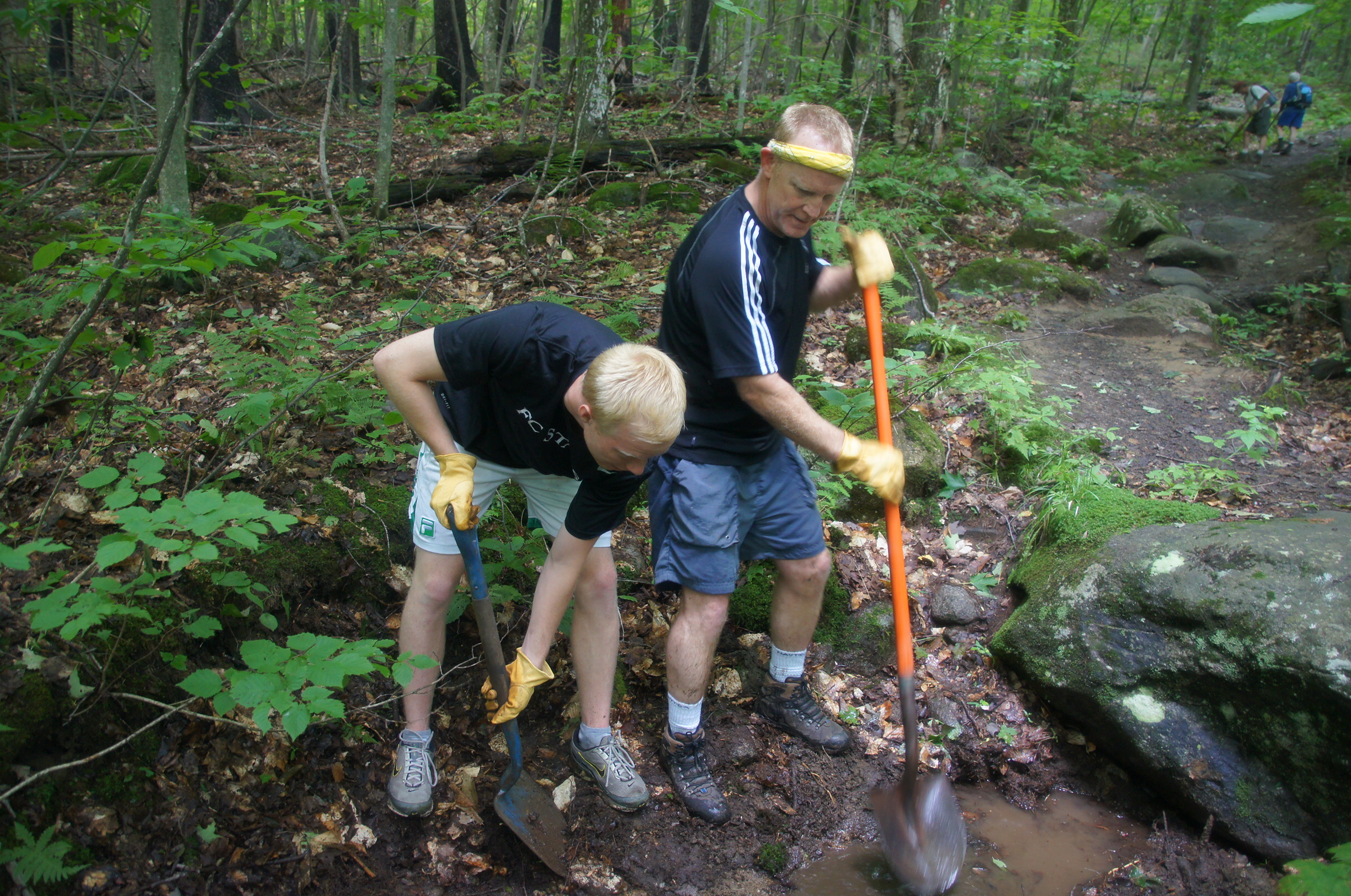 The need is never-ending to identify and encourage new volunteers who can help the SRKG build and maintain trails.
 The Greenway would like to bring more volunteers "Out of the woodwork and into the woods" during the Fall of 2013.  The Greenway working together with local Conservation Commissions, the Ausbon Sargent Land Trust and the AMC have put together these great workshops. Please join us!
Sept 7th (Sat):    New London: Phillips Preserve at Otter Pond (Goose Hole Rd). Help and Learn: Assess Problems on an easy Trail, then some help lopping.  Contact:  Andy Deegan (526-6555) New London Conservation Commission & SRKGC.
Sept 14 (Sat):    Sutton:  William Bean Quarry Trail, from Kings Hill Road.  Help and Learn: Rediscover historic spots on an overgrown trail. Loppers and handsaws to re-open an old trail on newly conserved Town land.  Contact: Henry Howell (938-5706) 
Sutton Conservation Commission & SRK Greenway Coalition.
 Sept 25 (Wed)    Andover & Danbury: Ragged Mountain, Ridge Trail (SRK Greenway)Help & Learn: Handsaws & loppers along a rocky forested ridge. (4 mi.) Contact: Lee Carvalho ph: 735-5719 or email: leecarvalho6@gmail.com
        
Oct 12 (Sat):   Newbury: Fishersfield Trail above Chalk Pond (SRK Greenway).  Help and Learn: How to Move a Large Rock safely on trail. Contact: Nathan Richer  nricher@ruger.com
  Instructors: Appalachian Mountain Club AMC (Joe Dodge Camp staff). Newbury Conservation Commission & SRKGC.
Oct 20 (Sun):   Bradford: Beautiful Bradford Bog on East Washington Road. Help & Learn: How to build and maintain a Bog Boardwalk & trail. Contact: Seth Benowitz (ph: 938-5201)
Bradford Conservation Commission and SRKGC.


Sponsored by The Quabbin-to-Cardigan  Partnership www.q2cpartnership.org